Welcome to the Mariposa SPCA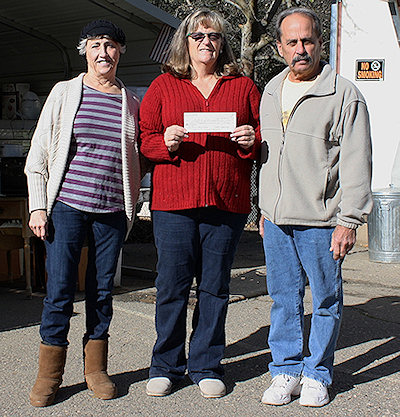 Last week Cathy and Tom Armstrong visited the SPCA shelter. They expressed their appreciation for the work the SPCA is doing and left a check for $1000 for the Juanita Moore Spay/Neuter Fund.

Since this fund was started in June 2011, it has paid for 162 dogs and 106 cats to be spayed or neutered, thus preventing the birth of several hundred unwanted animals in our county. County residents may volunteer eight hours of work at the shelter and the SPCA will pay the complete vet bill to spay or neuter their dog or cat. The work may consist of folding clothes for the yard sale, sweeping, walking dogs or petting/brushing cats.

To date the program has spent $21,360, and thanks to the generosity of people like the Armstrongs and others, it can continue to help the entire community. It has been so successful that at times the shelter has had only one or two dogs and a few cats available for adoption. Fewer animals don't mean the SPCA is not working. They continue to provide clothing, household items, books, tools, and toys to people on a tight budget. Wheel chairs, crutches, and useful items for the elderly are offered, sometimes at no cost.

Stop in and visit the newly renovated kennels at 5599 Hwy. 49 North, next to the landfill. To donate, click here.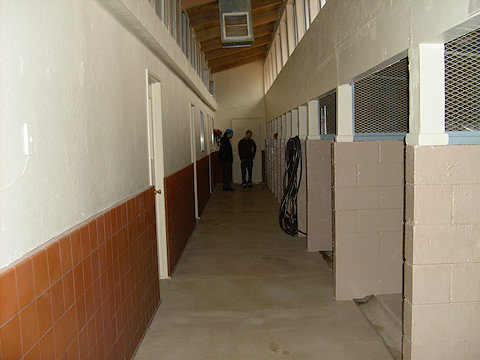 Kennel renovation complete. New floors, gates, walls painted, and electrical repairs. Thanks to all who donated food and cleaning supplies at the Christmas Open House. Happy Holidays to all our friends.
Winter Hours
November through April
The SPCA shelter will be open Wednesday through Saturday, from 10:00am to 3:00pm. We will be closed Sunday through Tuesday. Please call us at 209-966-5275 if in doubt.

Free Coffee every Saturday morning when you shop at the SPCA Yard Sale. Come in the shelter office and enjoy a cup of coffee.
Tish, the SPCA shelter mascot, accepts a check for $1249.00 from Pioneer Market for the cash register receipts that were turned in. The SPCA collects the receipts, totals them, and submits them to the market. Thank you to everyone who saves their receipts and brings them to the shelter. It really pays off. The money will be used to spay and neuter many adoptable dogs and cats.

Thanks also go to Pony Expresso for their Halloween Photo Benefit, and to Airport Bar and Grill for the Turkey Shoot and Halloween Party that raised additional funds for the shelter.
Heat Hazards
From the American Kennel Club
If your dog is outside on a hot day, make sure he has a shady spot to rest in. Doghouses are not good shelter during the summer as they can trap heat. You may want to fill a child's wading pool with fresh water for your dog to cool off in.

Never leave your dog in a closed vehicle on a hot day. The temperature inside a car can rise to over 100 degrees in a matter of minutes.

Always provide plenty of cool, fresh water.

Avoid strenuous exercise on extremely hot days. Take walks in the early mornings or evenings, when the sun's heat is less intense.

Try to avoid prolonged exposure to hot asphalt or sand, which can burn your dog's paws.

Dogs that are brachycephalic (short-faced), such as Bulldogs, Boxers, Japanese Chins, and Pekingese, have an especially hard time in the heat because they do not pant as efficiently as longer-faced dogs. Keep your brachycephalic dog inside with air-conditioning.
Heatstroke

Heatstroke can be the serious and often fatal result of a dog's prolonged exposure to excessive heat. Below are the signs of heatstroke and the actions you should take if your dog is overcome.

Early Stages:
Heavy panting.
Rapid breathing.
Excessive drooling.
Bright red gums and tongue.
Standing 4-square, posting or spreading out in an attempt to maintain balance.
Advanced Stages:
White or blue gums.
Lethargy, unwillingness to move.
Uncontrollable urination or defecation.
Labored, noisy breathing.
Shock.
If your dog begins to exhibit signs of heatstroke, you should immediately try to cool the dog down:
Apply rubbing alcohol to the dog's paw pads.
Apply ice packs to the groin area.
Hose down with water.
Allow the dog to lick ice chips or drink a small amount of water.
Offer Pedialyte to restore electrolytes.
Check your dog's temperature regularly during this process.

Once the dog's temperature has stabilized at between 100 to 102 degrees, you can stop the cool-down process.

If you cannot get the dog cooled down and you begin to see signs of advanced heatstroke, take the dog to the veterinarian immediately.
WINNER OF THE ESSAY CONTEST
THANKS TO THE ANIMALS

Andi Moore, winner, and Maureen McDonald, SPCA employee
Winning Essay
By Andi Moore, 7th grade
Mariposa Elementary School, Ms. Hamilton's class
I am thankful for a lot of animals in my life, but I am mostly thankful for my new puppy. We rescued her from an animal shelter in Bloomingdale IL. My puppy's name is Bailey and she is dark chocolate labradoodle mix.

When we found Bailey she was the last dog I looked at, but I new that she needed a better home then the shelter.

While my dad and step mom where signing the paper, I sat by Bailey and looked at her and I new that not only she needed me to help her get better I new that I needed her. Why? Because it was time for me to take responsibility in life, and adopting an animal was one of the. And that's why I am so grateful for my new dog. She has been there for me, and I have been there for her.

That's is why I am so thankful that dogs an animal are her today. Without animals we wouldn't have a lot of things like cartoons, zoos and even animal shelters. So I that God today that I have Bailey has me and I especially have her.
It is with great sadness the SPCA recognizes the passing of Dolores Tuttle, a woman who did so much for our society and the County of Mariposa. She was a quiet, unassuming woman who changed the hearts and minds of a whole county.

One hot summer day she found a mother dog and twelve puppies abandoned and starving on a deserted county road. The condition of the mother dog was pitiful. Dolores picked them all up and took them to her home. While caring for the mother and puppies she thought about how this could happen.

On her next visit to the SPCA shelter she asked Jeanette Lozano, the shelter manager, why animals are abandoned and how people can be so cruel. This is the question most people ask when they hear about puppies and kittens being dumped. Jeanette explained that an animal is usually abandoned when the owner can no longer care for it. When that animal is a mother with puppies or kittens, it usually means the owner did not have the money to spay or neuter and just did not know what to do with both the mother and offspring.

Dolores was moved by the plight of the animals she had rescued and by the thought of all the others who would be dumped along some deserted road to starve to death or become prey to other animals. She asked the right question. She asked herself first, and then she asked the SPCA, "What can I do about this problem?" She decided she wanted to donate a sum of money for the purpose of spaying and neutering animals of owners who could not afford the surgeries. It was a most generous proposal, simple and direct. The SPCA proposed setting up a fund to provide spaying and neutering for the entire county of Mariposa. Dolores named that fund "Sandy's Fund" after one of her favorite dogs.

Dolores herself went before the Mariposa County Board of Supervisors to ask the county to match her donation. They recognized the worth of the program and the costs it would save the county, and matched her donations for two years. Between 2001 and 2004, Dolores and her family donated $36,250, and the County of Mariposa put in $50,149. Sandy's Fund spayed or neutered 735 dogs and 1,980 cats, and included veterinarians in Mariposa, Merced, Sonora, Jamestown, Oakhurst, and Coarsegold. The number of abandoned litters dropped drastically during the first year, and to zero during the second. Dolores's gift saved thousands of animals from suffering and untimely death. She is a real SPCA hero and the SPCA will be greatly diminished by the passing of her compassionate heart. Wherever she now rests, it is in the company of thousands of animals she helped.
Cathy Garner from Fresno Wildlife Rescue and Rehabilitation entertained the SPCA members and guests on March 21, at the Best Western Community Room. She is holding a Harris's Hawk, a desert hunter.

Over 70 people enjoyed the presentation. The hit of the evening was Jenny Brower who told the story of "Igor" the raven. Unfortunately Igor cannot be free because his original owner trained him to open other people's mailboxes and steal the mail. The great intelligence of the raven makes caring for one a constant challenge, and Jenny has her hands full as she tries to put plants in the ground and Igor follows behind pulling them up.

Debby Eldred holds a barred owl named Beauregard. Barred owls are moving into our area due to climate change. They are the most vocal of all the owls, able to make sounds like a dog barking or various screams. If you think you hear Bigfoot in your back yard, it just might be Beau.
Visit their website at: http://www.fresnowildlife.org/about.html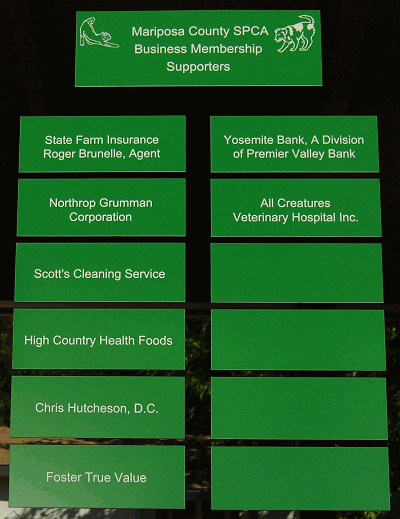 This new plaque on the front of the shelter office shows new business memberships. These businesses have contributed $100 each to the SPCA for their yearly dues. Roger Brunelle donated and installed the plaque. Thank you, Mariposa business supporters.
Announcing the Juanita Moore Volunteer/Spay Neuter Program
In an effort to give back to the community, the SPCA would like to announce the new Juanita Moore Volunteer/spay neuter program. The offering of these funds is made possible through the wonderful generosity of Juanita Moore, a long-time resident of Mariposa and avid animal lover, who donated her entire estate to the SPCA.
During hard economic times, pet owners find themselves unable to afford to spay or neuter their dogs or cats. The SPCA would like to help with a new program in which owners would volunteer eight hours of work at the shelter in exchange for spaying /neutering their pets.
This work could include folding clothes or straightening the yard sale area, walking dogs, folding laundry, or brushing cats. After the eight hours are completed, the SPCA will then pay the veterinarian who performs the surgery. If an owner is not physically able to volunteer, he or she could arrange for a friend or neighbor to do the volunteer work for them. Call the shelter for more information on how to take advantage of this program.
The SPCA also helps provide an excellent place to buy low cost clothing, including children's clothing, coats, boots, and blankets. The yard sale has toys and books for all ages, small appliances and kitchen ware. Purchasing these items from the SPCA is the perfect way to help make ends meet these days.
Last year the SPCA found homes for 167 dogs and 114 cats. Each animal was healthy, spayed or neutered, vaccinated, and wormed. During last year's outbreak of a fatal cat virus in the community, the SPCA cats remained healthy and unaffected, due to the outstanding management of shelter manager, Jeanette Lozano.
The SPCA of Mariposa County is famous throughout Central California for maintaining a spotless facility with healthy, socialized animals for adoption. It receives no state or local funds, but operates completely from donations and the generosity of its members. If you are a contributing member, pat yourself on the back. If you would like to become a member of this society that provides so much to Mariposa call 966-5275 or drop by the shelter.

A letter from a happy owner:
Tan (aka Tanner) was adopted from the Mariposa SPCA about a year ago, when he was about 2 years old. He was a very nervous boy, who wanted to please very badly. He hid under the bed if criticized in any way. He was housebroken, but made nervous mistakes. Slowly learning to trust his new forever family, he continued to always try to do the right thing. He has tried so hard that on May 4th he earned his AKC Canine Good Citizen degree and passed his Therapy Dog International evaluation. What a proud family he has now!
We had wonderful help from Gail Hawksworth for obedience training, and wonderful support from Therapy Dogs International, Fresno Chapter, as well.
Our thanks for this dog.
Judy Looby
"Black Bears: Dispelling the Myths" a multimedia presentation by Donna "Geode" Andrews
The general meeting on March 15, featuring Donna Andrews from the North American Bear Center in Ely, Minnesota, was a huge success. Donna also met with local officials from county and state wildlife management, and gave a presentation at Catheys Valley School.

Donna delivering her talk.

Donna captivating Catheys Valley School with her bear talk.


Thank you Pioneer Market for being one of our sponsors
Save your receipts from Pioneer Market and bring them to the shelter.

Our regular hours of operation are 10 am to 3 pm, Tuesday through Saturday. We are closed Sunday and Monday. During periods of extreme heat and winter storms the Shelter hours may change. Please call ahead to confirm the Shelter is open.

LOCATION MAP


If you have lost your pet or need to turn in a pet
Call Animal Control 209-742-4300 or check their web page: Animal Control

ERIC FINDS A HOME
Welcome to the SPCA of Mariposa County
SPCA Mission Statement
The SPCA of Mariposa County was incorporated on July 12, 1976.

The specific and primary purpose is to provide a facility for keeping, and caring for animals and to provide a means of enforcing laws relating to cruelty to animals.

The general purpose, for which this corporation is formed, is to provide an arena for local education and humane treatment to animals and to foster local interest in such a society.
PayPal Donation

Yearly Membership
($25 through PayPal)


MAKE YOUR PLEDGE!
Together, we can improve the lives of animals today.